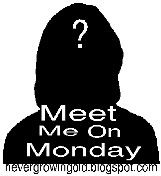 Click on Java's button above for info.
She asked 5 questions.

Questions:

1. What are your New Year's Eve plans?
2. How tall are you?
3. What is your favorite pudding flavor?
4. What room of the house do you blog the most in?
5. What is your best physical feature?

My Answers

1.Not really sure what we are doing for New year's eve. Probably go out to eat & have drinks & then celebrate at home.
2. 5'3". Java, I've found that every doctor you go to tells you that you are a different height. I've been told that I'm 5'2", 5'1" & 5'3". I'm sticking with 5'3" since that's what I've always been.
3. My Fave pudding is chocolate.
4. I blog in my office (our guest room) it's all cute & girlie & hot pink, black & white.
5. Best physical feature. I would have to say my eyes. They are blue with gold specks, so they look green. I've learned how to play with make-up to bring them out & which colors look best. Also my hair.