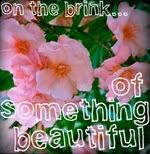 My friend Kellie @ Get the Words out is doing a list project. I was hoping to do it every week, but I am behind & trying to catch up. I love lists & have 25 going right now.

Week 8 list:
Things I am looking forward to

~The Batchelorette finale
~Tara's dance camp
~LA Ink
~Rockport
~Newburport catamaran
~My friend Peg visiting in late August (hopefully)
~Going away overnight with the hubs & maybe taking a trip somewhere
~When A&T go away camping (I can catch up on scrapbooking)
~Going camping to A's friends place
I might add a few more things to the list.